Upcoming Events
---
---

Sunday Service Time:
8:00 am, 9:30 am and 11:00 am
---
This Sunday – March 24


This Sunday, March 24, April Diaz will be our guest speaker at 8:00 and 11:00 am. April will be here for four weeks. This week's message is titled Giving Up Judgment and is from Matthew 7:1-5. The 9:30 service will be confirmation for the 8th graders who finished the class. Click on the link above for an introduction.
---
Speaker Schedule

On March 24, April Diaz will begin a four-week Lenten series. Her first message is titled
Giving Up Judgment
, and she will be speaking to us from Matthew 7:1-5.
On March 31, April's message is titled Giving Up Specific Direction and is from John 15:4-7.
April pastored in the local church for nearly 20 years at two of the most influential churches in the country. Now she's a speaker, author and coach for leaders all over the country. Secretly she's a mix of a total girly girl and a tomboy and is still crazy about her high school sweetheart, Brian. Together, they co-parent 3 fabulous kiddos.
For more information on our upcoming guest speakers, please visit our
website
.
---
Confirmation Sunday - March 24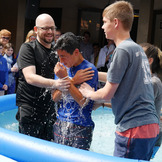 This Sunday, March 24, is Confirmation Sunday during the 9:30 am service. Baptisms will be held on the courtyard at 12:00 pm. Come celebrate this special milestone with the eighth graders and their families.
---
Women's Fellowship Luncheon - April 2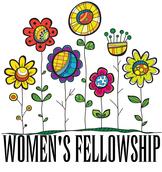 Ladies, we hope you will join us on Tuesday, April 2, for our luncheon in Richards Hall. The subject is Beginnings - Birthdays and Genealogy. We will have four speakers who will share fun stories about what they have learned about their ancestral roots. To make reservations, please contact Nancy Kamalski at nancykamalski@gmail.com or (408) 255-3627.
---