Upcoming Events
---
---

Sunday Service Times: 8:00 am, 9:30 am and 11:00 am
---
This Sunday – July 22
– Summer in the Psalms

This Sunday, July 22, guest speaker, Keith Potter, continues our summer series Summer in the Psalms and will be speaking from Psalm 8. Click on the link above for an introduction from Gabe Gilliam.
---
All Church Retreat
–
September 7-9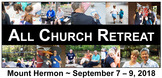 We are excited to have the opportunity to have the Church family together in the beautiful redwoods at Mount Hermon. This year's retreat costs less than it has in the past. Scholarships are available.
Here are the top ten reasons why you should go on the All Church Retreat:
#10 - A weekend where you don't have to cook!
#9 - Spending time with members of your church family.
#8 - You get to listen to some incredible speakers at our program time and seminars.
#7 - Have a chance to meet new people.
#6 - Take a nap.
#5 - Did we say that you don't have to cook!
#4 - Plenty of opportunity for free time and to enjoy the beauty of the redwoods.
#3 - Participate in fun activities with your family and friends.
#2 - Campfire!
#1 - Worship God with your church family.
---